We are more than honoured to have as our  mentor Shri Shri 1008 Mahamandaleshwar Swami Omkar Das Ji Maharaj, ardent disciple of Parampujya Jagatguru Yamuna Das Ji (Satua Baba) who has his humble abode at the holy Manikarnika Ghat in the city of Varanasi.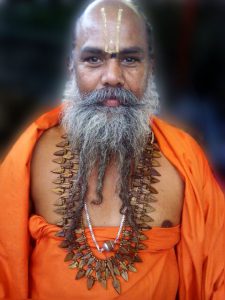 In the year 1977, at the tender age of fifteen, Yamunadas Ji set foot in the Satua Baba Ashram Manikarnika Ghat and involved himself in the reading of the scriptures for the next three years. Following this, he left for the Himalayas, namely the Gangotri and Gomukh Tapovan and lost himself in the search for austerity. Through the years 1984-85 he carried on his meditation and devotional search for peace. Between the years 1985-92 he became a learned soul in the field of scriptures so to enhance his devotional self, he engrossed himself in tough meditation regimes on the banks of River Narmada. In the period of 1995-2007, he had decided to let more people realise the value of meditation and penance and thus developed and renovated the Satua baba Ashram on the frequently visited Manikarnika Ghat for more people to join in and realise the worth of piousness. Since 2007, Swamiji continues to devote his life to spread the essence of spiritualism to his disciples, young and old. He also engages in the upkeep of the Hanuman Temple in Kathnai, near Varanasi. To date, his holy presence at this place graces the residents and the visitors alike.
In Swamiji, we see an amply learned guide in all of our endeavors and his blessings shall serve as a guiding light in the holy services we seek to provide through our approach.
For contact please mail us :-
Contact@varanasidivineservices.com