Kumbh Mela 2019, Allahabad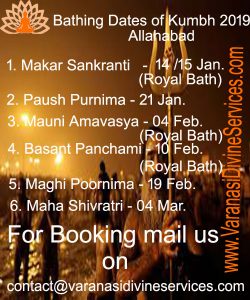 For the uninitiated, according to Wikipedia, in Hindu tradition Triveni Sangam is the "confluence" of three rivers. Sangama is the Sanskrit word for confluence. The point of confluence is a sacred place for Hindus. A bath here is said to flush away all of one's sins and free one from the cycle of rebirth.
One such confluence takes place in Allahabad, Uttar Pradesh, India in the form of the convergence or Rivers Ganga and Yamuna. The third river, Saraswati is said to be present in an invisible form. The Maha Kumbh, a mega event of this sort occurs every twelve years. However, the Kumbh takes place each year and witnesses footfalls from people all over the world, young and old, white and coloured, and celebrities and commoners alike.
According to The Atlantic, the Kumbh Mela is the largest gathering on earth. Faith is the only religion that prevails in the area throughout the season of the Kumbh Mela. To experience the atmosphere to the fullest, people put up tents throughout the habitable area of the region and spend the month housed in temporary homes atop grey sand. Words fail to describe the beauty of the place which has found its mentions in the ancient scriptures and in the works of the most famous men.
Varanasi Divine Services has established its foothold in the holy city of the Ganges, Allahabad. While the city itself is a homely experience of a kind, it can be a hassle to come up with the perfect arrangement when you are an outsider. To ease out the process and make the entire process less cumbersome, seeks to provide you with quality accommodation facilities in the prime localities of the Kumbh Mela, while saving you the troubles of going through the hassle of land allotment and the setting up of tents in the fair.
We are currently taking pre-orders at very reasonable prices for the Mela next year. Contact us for a brief on different varieties of lodgings that are on offer or risk missing out on the opportunity of a lifetime.
Interest? Please contact us at contact@varanasidivineservices.com or you can also call us: 9453478780.
For Bathing Dates of Magh Mela kindly click on http://www.varanasidivineservices.com/#